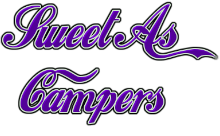 INSTANT QUOTE
New Zealand Wide Campervan Hire
Holiday with neon lights & chandeliers in a fully pimped campervan
Travel in Style and Pay Budget Rates
Don't travel New Zealand tamed in an ORDINARY Campervan. Rent a Sweet As Camper and travel with REAL attitude !
2 Berth Budget Campervan
This budget 2 berth is great for those on a tight budget. It comes with an awning for outside dining, and has a TV and pot-a-toilet.
FEATURES:


Manual transmission

2 berth - 3 seatbelts

Roof Rack

Microwave

20lt water bottle

Has small tub for sink in a frame which you lift out to empty

Mains power points which works when plugged into power

Domestic 2 way fridge (battery and mains power)

House battery

Awning attaches to the side

Portable gas cooker with a gas bottle

Out door table and chairs included in hire rate

Portable heater (hot & cold)

Has a small TV with ariel (can be hard to get reception as it does not have satellite dish)

Chemical porta-toilet but NO self contained certificate

Fuel: Diesel

Seatbelts: 3 in the front driving cab

Exterior Height: Approx 2.2m Exterior Length: Approx 4.5m

Vehicle Safety: fire extinguisher

Heating: Air conditioning and heater (run off engine)

Power Supply (internal): 12V battery recharged by engine alternator/power source

Power Supply (external): 240V mains connection Water: Cold water - 20L fresh

Audio: AM/FM radio, CD player Speakers: Front

Bedding: Duvet, pillows, linen & towels

Cooking: Portable gas stove & bottle

Living Equipment: Plates, bowls, cups, cutlery, mugs, grater, can opener etc

Cooking Equipment: Toaster, kettle, pots & pans etc

Storage: Under seats in rear - soft baggage is best

Other: Bucket, brush & shovel, fan heater, dishcloth & tea towels
ROAD USER CHARGES: Road tax of NZ$7 for every 100km's is charged for every hire.
OPTIONAL EXTRA'S PER HIRE (quoted in NZ$)


extra Bedding pack: $50 per double/single (Includes duvet, sheets, 2 pillows)

GPS: $50.00

Tent: $50

Bike rack: $50

Inflatable mattress: $30

Child Booster Seat: $50

Child Car Seat (newborn-18kgs): $100

solar shower $50.00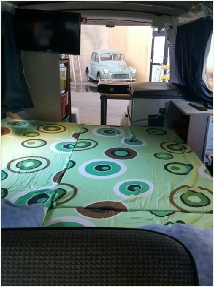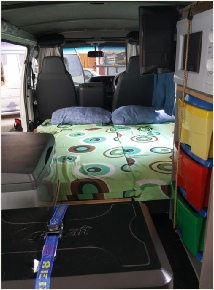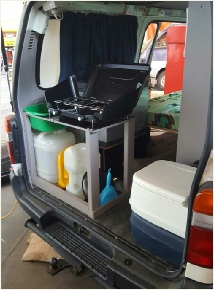 SWEET AS CAMPERS NEW ZEALAND | New Zealand Wide Campervan Hire | Ph: +64 9 427 4654 | Mobile: 027 254 5504
info@sweetascampersnz.co.nz | www.sweetascampersnz.co.nz
New Zealand Campervan Hire - New Zealand Motorhome Hire - Campervan Hire Auckland - Campervan Hire Christchurch - Campervan Hire NZ - Campervan New Zealand
INSURANCE: Our standard insurance excess is NZ$3300. This can be reduced to NZ$500 for a small daily fee (depending on time and length of hire and vehicle). Contact us for a quote.
ROAD USER CHARGES: Road tax of NZ$7 for every 100km's is charged for every hire.