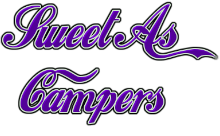 INSTANT QUOTE
New Zealand Wide Campervan Hire
Holiday with neon lights & chandeliers in a fully pimped campervan
Travel in Style and Pay Budget Rates
Don't travel New Zealand tamed in an ORDINARY Campervan. Rent a Sweet As Camper and travel with REAL attitude !
Pimped Campervan features:
Vehicles: Toyota Hiaces

Fuel: Diesel

Seatbelts: 2 in the front driving cab

Transmission: 5 Speed manual or auto

Engine: 2.8 litre

Exterior Height: Approx 2.5m (with batwing) or 2m (without)

Exterior Length: Approx 5m

Vehicle Safety: Central locking, fire extinguisher

Security: Vehicle alarm

Heating: Air conditioning and heater (run off engine)

Power Supply (internal): 12V battery recharged by engine alternator/power source

Power Supply (external): 240V mains connection

Water: Cold water - 20L fresh & 20L grey

Audio: AM/FM radio, CD player

Speakers: Front and back

Dining: Internal dining table

Bed: Large queen size

Bedding: Duvet, pillows, linen & towels

Fridge: 32 litre fridge (battery powered)

Cooking: Portable gas stove & bottle

Living Equipment: Plates, bowls, cups, cutlery, mugs, grater, can opener etc

Cooking Equipment: Toaster, kettle, pots & pans etc

Storage: Under seats in rear - soft baggage is best

Other: Bucket, brush & shovel, fan heater, dishcloth & tea towels

ROAD USER CHARGES: Road tax of NZ$7 for every 100km's is charged for every hire.




OPTIONAL EXTRA'S PER HIRE (quoted in NZ$)
Bedding pack: $50 per double/single (Includes duvet, sheets, 2 pillows)

Gas bottle: $30

GPS: $50

Picnic Table: $35

Camp Chair: $5

Tent: $50

Bike rack: $50

Inflatable mattress: $30

Child Booster Seat: $50

Child Car Seat (newborn-18kgs): $100

Customised NZ Campervans
All of our pimped campervans are individually customised and features differ between vehicles. The images displayed are only an indication of the style of campervan hire vehicle available. If you have a particular campervan you prefer please let us know at the time of booking. It is not possible to guarantee your choice but we do our best to try to allocate your preference.
SWEET AS CAMPERS NEW ZEALAND | New Zealand Wide Campervan Hire | Ph: +64 9 427 4654 | Mobile: 027 254 5504
info@sweetascampersnz.co.nz | www.sweetascampersnz.co.nz
New Zealand Campervan Hire - New Zealand Motorhome Hire - Campervan Hire Auckland - Campervan Hire Christchurch - Campervan Hire NZ - Campervan New Zealand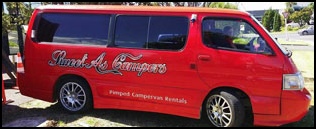 RED: Racy red is the only one in the fleet with manual transmission. Red interior, coloured interior lights and tinted windows. Low key on the outside, party central inside. Setbelts: 3.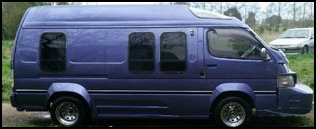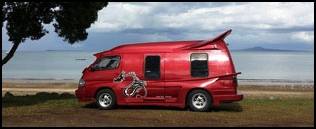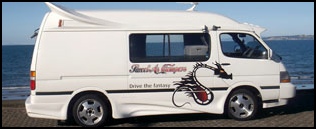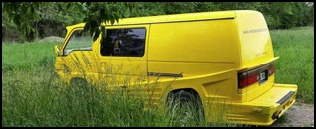 PURPLE: This mean machine has a long front bumper and angry headlights. The bubble tinted windows and moon roof over the driving cab are extremely awesome. Softly padded from floor to ceiling, high interior roof and groovy mood lighting. Seatbelts: 2.
MAROON: This van has a sweet body kit, bat wings and chubby mags. A real attention seeker with tinted windows for daytime privacy. Another van with snug interior padding, extra head room and shag pile carpet, ideal for cold nights. Seatbelts: 3.
WHITE: Nice and tidy with soft seats and and padded walls. A unique rear seat set up for hanging out inside. The chandeliers light up to set the mood nicely. Seatbelts: 3.
YELLOW: Our canary yellow camper has a full body kit, racing wings and white interior. Add fat mags and a moon roof and you've got yourself a real show stopper. Seatbelts: 2.