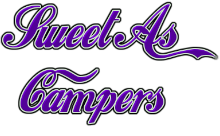 INSTANT QUOTE
New Zealand Wide Campervan Hire
Holiday with neon lights & chandeliers in a fully pimped campervan
Travel in Style and Pay Budget Rates
Don't travel New Zealand tamed in an ORDINARY Campervan. Rent a Sweet As Camper and travel with REAL attitude !
Hi-Top Campervan with shower & toilet (7 seatbelts)

Great for Families & Groups on a Budget

This Hi-Top Camper comes with all the bells and whistles!
It has 7 seatbelts and sleeps 2 inside. With the addition of a tent, this camper is perfect for groups and families on a budget. Two people can sleep inside and others can sleep in a tent outside under the awning. This camping option is very economical as the rental cost is for just a 2 berth campervan and tent hire (if required). This campervan comes with an indoor gas cooker & gas bottle, interior hot shower & WC. The van has a pop-top roof which gives you the benefit of more head room inside but converts to normal height for driving. The pull out awning easily stores away under the pop-top roof.

CHECK OUT THESE UNIQUE FEATURES:


Bed: Large Double size bed

Bedding: Duvet, pillows, linen & towels

Fridge: 32 litre fridge (battery powered)

Living Equipment: Plates, bowls, cups, cutlery, mugs, grater, pots & pans, cooking utensils, etc

Outdoor Living: Table & chairs, awning.

Cooking Equipment: Gas stove, toaster, kettle

Other: Bucket, brush & shovel, dishcloth & tea towels

Fresh water tank and waste water tank, hose for draining and water hose, fitting to fill water tank

Shower is heated by conversion (heat from the radiator so hot and cold)

Storage

:

Under seats in rear - soft baggage is best

Portable chemical toilet

Fire Extinguisher

Heating: Air conditioning and heater (run off engine) and fan heater

Power Supply (internal) 12V battery recharged by engine alternator/power

Power Supply (external) 240V mains connection

Seatbelts: 7 - two in the front driving cab and five in the back (seating for 7 people)

Transmission: 5 Speed Auto

Engine: 2.8 litre

Exterior Height Approx 2.5m

Exterior Length: Approx 5m Vehicle
SWEET AS CAMPERS NEW ZEALAND | New Zealand Wide Campervan Hire | Ph: +64 9 427 4654 | Mobile: 027 254 5504
info@sweetascampersnz.co.nz | www.sweetascampersnz.co.nz
New Zealand Campervan Hire - New Zealand Motorhome Hire - Campervan Hire Auckland - Campervan Hire Christchurch - Campervan Hire NZ - Campervan New Zealand
INSURANCE: Our standard insurance excess is NZ$3300. This can be reduced to NZ$500 for a small daily fee (depending on time and length of hire and vehicle). Contact us for a quote.
ROAD USER CHARGES: Road tax of NZ$7 for every 100km's is charged for every hire.

Hi-Top Campervan with attachable tent (3 seatbelts)

A cheap camping option

This Hi-Top camper has a self contained certificate which means you can freedom camp. It comes with a portable toilet which stores away in the cupboard which can be used in the tent attached to the back of the van. It also has an outdoor solar shower. This van has a pull out awning on the side, and a tent which clips to the back of the van where you can use the shower & toilet OR set up a bed for an extra person. Extra bedding and inflatable mattress is available for hire.

CHECK OUT THESE UNIQUE FEATURES:


Bed: Large Double size bed

Bedding: Duvet, pillows, linen & towels

Fridge: Battery/mains & gas powered

Living Equipment: Plates, bowls, cups, cutlery, mugs, grater, pots & pans, cooking utensils, etc

Outdoor Living: Table & chairs, awning.

Cooking Equipment: Gas stove, toaster, kettle

Other: Bucket, brush & shovel, dishcloth & tea towels

Fresh water tank and waste water tank, hose for draining and water hose, fitting to fill water tank

Solar Shower for outdoor use

Storage

:

Under seats in rear - soft baggage is best

Portable chemical toilet (stored in cupboard and used outside in the privacy of tent)

Fire Extinguisher

Heating: Air conditioning and heater (run off engine) and fan heater

Self Contained Certified

Power Supply (internal) 12V battery recharged by engine alternator/power

Power Supply (external) 240V mains connection

Seatbelts: 3 -in the front driving cab

Transmission: 5 Speed Auto

Engine: 2.8 litre

Exterior Height Approx 2.5m

Exterior Length: Approx 5m Vehicle
OPTIONAL EXTRA'S PER HIRE (quoted in NZ$)
Child Car Seat (newborn-18kgs): $100