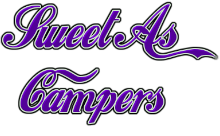 INSTANT QUOTE
New Zealand Wide Campervan Hire
Holiday with neon lights & chandeliers in a fully pimped campervan
Travel in Style and Pay Budget Rates
Don't travel New Zealand tamed in an ORDINARY Campervan. Rent a Sweet As Camper and travel with REAL attitude !
6 Berth range
Our Modern full size 6 berth campervans are extremely spacious and fully equipped with everything you need for a great family holiday, including the kitchen sink!

The external storage unit (available on some models) is great for those who don't like to travel light, and gas hot water ensures you wont have a cold shower. Features include large king size bed, satellite TV (available in some models), DVD and an extra large bathroom with vanity, cupboards and mirror.

FEATURES:


2x double bed & 2 single beds

Gas hot water cylinder

Seat belts for 6 passengers (2 in front, 4 in back)

Satellite TV & DVD player

(available in some models)

Gas heating & hot water

3 way Fridge (gas, electric & battery)

Gas burner cooker

Extractor fan

Interior lighting

Outside lighting

Pull out awning

Toilet with removable capsule

Shower with hot & cold water

Fresh water tank and waste water tank

Self contained certified

House battery

Lead and plug to plug in to mains power

Double-glazed windows with insect screens

Power sockets

Plug to charge cell phone

FM radio & CD player

Inside table which folds down to make up bed

Bike Rack for 4 bikes

(available on some models)

External storage box

(available on some models)

Internal access from front cab to living area

Safety: Central locking, fire extinguisher

Heating: Air conditioning and heater (run off engine)

Power Supply (internal) 12V battery recharged by engine alternator/power source

Power Supply (external) 240V mains connection

Speakers: Front and back

Dining: Internal dining table & outside table

Linen & towels

Living Equipment: Plates, bowls, cups, cutlery, mugs, grater, can opener etc

Cooking Equipment: Toaster, electric kettle, pots & pans, frying pan

Storage: Under seats and exterior lock box for larger items

Other: Bucket, brush & shovel, fan heater, dishcloth & tea towels

Road tax of NZ$10.00 for every 100km's is charged for every hire
Specifications
Length: 6 metres
Width: 2.5 metres
Height: 3.5metres
Fridge: 70 litres
Fresh water: 80L
Grey water: 90L
Gas bottle: 9kgs
Fuel capacity: 70L
Fuel usage: aprox 12L per 100kms
Transmission: Manual
Engine: 2L -3L diesel
OPTIONAL EXTRA'S PER HIRE (quoted in NZ$)
Bedding pack: $50 per double/single
Includes duvet, sheets, 2 pillows

Gas bottle: $30

GPS: $50

Picnic Table: $35

Camp Chair: $5
INSURANCE: Our standard insurance excess is NZ$3300. This can be reduced to NZ$500 for a small daily fee (depending on time and length of hire and vehicle). Contact us for a quote.
SWEET AS CAMPERS NEW ZEALAND | New Zealand Wide Campervan Hire | Ph: +64 9 427 4654 | Mobile: 027 254 5504
info@sweetascampersnz.co.nz | www.sweetascampersnz.co.nz
New Zealand Campervan Hire - New Zealand Motorhome Hire - Campervan Hire Auckland - Campervan Hire Christchurch - Campervan Hire NZ - Campervan New Zealand

6 Berth Compact
This camper is ideal for families and groups. Easy to drive and very economic, it is only 5 metres long and can be driven on a car license. Plan a cheap New Zealand camping holiday with all of the comforts of home.

This campervan is fully self contained with gas and solar power so it does not need to be plugged in to power to use the amenities. It even has a converter so that you can watch DVD's on TV from the battery without being plugged in to mains power.

FEATURES:


2x double bed and 2 x single bunk beds (one double over the cab in the front, 2 x single bunk beds in the back and one double along the side)

Gas hot water cylinder

Seat belts for 6 passengers (3 in front, 3 in back)

TV (DVD's only, run off battery or mains power)

Gas heating

Gas & Electric Fridge

Gas burner cooker

Solar panels which charge house battery

Pull out gas BBQ

Extractor fan

Interior lighting

Outside lighting

Pull out awning

Toilet with removable capsule

Shower with hot & cold water

Fresh water tank and waste water tank

Self contained certified

House battery

Lead and plug to plug in to mains power

Double-glazed windows with insect screens

Power sockets

Plug to charge cell phone

FM radio & CD player

Inside table which folds down to make up bed

Tow Bar

Ladder for access to top bunk

Internal access from front cab to living area

Safety: Central locking, fire extinguisher

Heating: Air conditioning and heater (run off engine)

Power Supply (internal) 12V battery recharged by engine alternator/power source

Power Supply (external) 240V mains connection

Speakers: Front and back

Dining: Internal dining table & outside table

Linen & towels

Living Equipment: Plates, bowls, cups, cutlery, mugs, grater, can opener etc

Cooking Equipment: Toaster, electric kettle, pots & pans, frying pan

Storage: Under seats and exterior lock box for larger items

Other: Bucket, brush & shovel, fan heater, dishcloth & tea towels

Road tax of NZ$10 for every 100km's is charged for every hire
Specifications
Length: 5 metres
Width: 2.2 metres
Height: 2.7 metres
Fridge: 60 litres
Fresh water: 60L
Grey water: 60L
Gas bottle: 9kgs
Fuel capacity: 70L
Fuel usage: aprox 10L per 100kms
Transmission: Automatic
Engine: 2.5L diesel